Audiovisual Translation: Subtitling
Audiovisual Translation: Subtitling
Audiovisual Translation: Subtitling
Introduction
Workshop Leader: Dr. Amer Al-Adwan
Workshop Schedule Date: 06 October 19 - 09 October 19
Workshop Schedule Time: 4:00 - 7:00 pm
Duration: 3 hours
Venue: Penrose House (LAS) Building - Classroom A019B
About the Workshop
Overview
This is a mainly practical workshop which introduces participants to the techniques of intralingual and interlingual subtitling. It will introduce the specific formal and discursive features of subtitles: the temporal and spatial constraints, timing, condensation, verbal and non-verbal cues, appropriate punctuation, positioning and segmentation.
This workshop will also encourage participants to develop professional skills informed by current regional and international industry standards and practices. Participants will be introduced to the methods of tackling culture-specific problems of audiovisual texts in subtitling, including register, dialects, as well as taboo words and interjections.
The workshop will also introduce participants to nonprofessional and professional software programs, with which they will establish their subtitling skills and undertake subtitling projects of various types of TV programs and films.
Structure
The workshop includes a combination of:
Presentations,
Practical tasks,
Breakout groups,
Application of revision parameters.
Learning Objectives
Introduce participants to subtitles as a form of inter-semiotic communication and inter-linguistic mediation;
Acquaint participants with the constraints and international norms of subtitling;
Introduce participants to subtitling practices in the Arab World;
Subtitle a variety of audio-visual materials according to current professional standards and practices;
Introduce participants to the key issue of quality in subtitling, both internationally and in the Arab world.
Learning Outcomes
Understand the formal and discursive features of subtitles;
Understand the practical and technical constraints of subtitling;
Outline the current industry practices and standards;
Understand key issues of quality in subtitling;
Critically reflect on the appropriate subtitling strategies to be used in each context;
Effectively and professionally apply the most appropriate mediating technique when localising a media product;
Use subtitling and media-editing software packages;
Effectively engage with the critical issues of subtitling in both oral and written forms;
Work competently and confidently with a range of media products.
Target Participants
This Workshop is recommended for translation and media students, new entrants to the profession and established practitioners. The maximum capacity is 15 participants.
About the Leader/Instructor
Dr. Amer Al-Adwan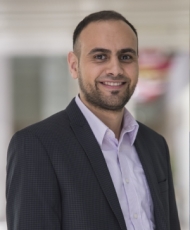 Dr Amer Al-Adwan is an Assistant Professor of Audiovisual Translation in the Translation and Interpreting Institute, Hamad Bin Khalifa University, Qatar. He obtained his PhD in Translation and Intercultural Studies from the University of Manchester, UK in 2009. He worked for few international institutions, including BBC Arabic and Aljazeera English as a translator and a subtitler. His research interests focus on audiovisual translation, discourse analysis, intercultural studies, politeness theory and media translation.