Dubbing, Bring out the Artist in You!
Dubbing, Bring out the Artist in You!
Dubbing, Bring out the Artist in You!
Introduction
Workshop Leader: Dr. Rashid Yahiaoui
Workshop Schedule Date: 19 April 20 - 22 April 20
Workshop Schedule Time: 4:00 - 7:00 pm
Duration: 3 hours
Venue: Penrose House (LAS) Building - Classroom A019B
About the Workshop
Overview
This workshop introduces participants to the translation and adaptation of dialogue in preparation for either non-lip-synched dubbing or voice over. The medium of instruction is a hybrid of both Arabic and English and, although, the emphasis is put on Arabic, students will also work on activities into English.
Participants will learn to work with scripts and to deal with a wide range of linguistic, cultural, semiotic and technical issues faced when producing a script for revoicing. Participants will work with a range of different media products including: documentaries, interviews, cartoons.
Target Participants
This workshop is recommended for anyone who is interested in learning about the art of dubbing (students, media practitioners, actors, voice actors, translators, etc...).
The maximum capacity is 12 participants.
Structure
The workshop includes a combination of
Presentations,
In-class activities,
Recording in the studio
Learning Objectives
The participants will be introduced to dubbing as a mode of Audiovisual Translation;
The participants will be introduced to the conventions of dubbing scripts;
The participants will be familiarized with current conventions and standards in the Arabic dubbing industry;
The participants will be familiarized with the cultural and linguistic complexities of translating and adapting dialogue;
The participants will produce and voice dubbing scripts for non-synched revoicing projects.
Outcomes
Demonstrate knowledge of current industry practices and standards
Create and adapt dialogue, dealing with the range of cultural and linguistic issues
Evaluate their translation/adaptation choices and strategies
Identify script adaptation constraints and identify solutions
Create and voice a dubbing script for non-synched voicing
About the Leader/Instructor
Dr. Rashid Yahiaoui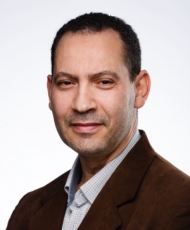 An assistant professor in the MA in Audiovisual Translation Program at the College of Humanities and Social Sciences at Hamad bin Khalifa University, Qatar. He has a Ph.D. in Translation Studies from London Metropolitan University, UK, and a Master in Translation and Interpreting from the University of Salford, UK. Rashid has a wealth of experience lecturing in the areas of translation and interpreting, dubbing, EFL, and academic writing. He also has extensive experience as a professional interpreter, as he worked for the Home Office and National Health Service in the UK for over 10 years.
Rashid's main research interests are: Audiovisual Translation, Ideology, Critical Discourse Analysis and Media Texts; Political Discourse Analysis, and Translation Pedagogy and Curriculum Development.
Find out more about the MA in Audiovisual Translation Program