CHSS Holds Admission Information Session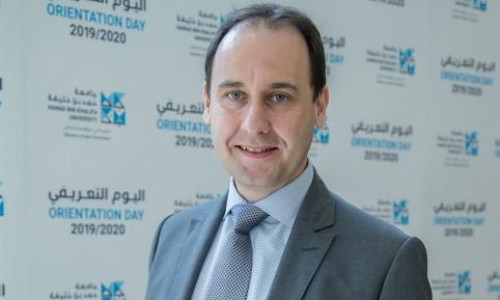 HBKU begins its annual enrollment campaign and announces upcoming information sessions
With the admissions cycle now open at Hamad Bin Khalifa University (HBKU), the College of Humanities and Social Sciences (CHSS) held an Online Information Session for prospective students on October 19.
The session featured presentations by CHSS academic faculty on different aspects of graduate-level education and student life. It was also an opportunity to have their questions answered by HBKU's Admissions team.
Dr. Steven Wright, CHSS Acting Dean, and faculty members introduced the college's research-intensive programs and highlighted opportunities for experiential learning, internships, and work placements, as well as co-curricular activities that give students at CHSS access to the professional world.
CHSS is home to a PhD program in Humanities and Social Sciences, and five interdisciplinary Master of Arts (MA) degree programs. Those are the MA in Women, Society and Development, and MA in Digital Humanities and Societies; the MA programs in Translation Studies and in Audiovisual Translation - which are internationally validated by the University of Geneva, Switzerland, and the MA in Intercultural Communication, delivered by the Translation and Interpreting Institute (TII).
Speaking after the event, Dr. Wright said: "Our degree programs are at the cutting edge of their fields and offer a truly enriching experience. They provide clear added value and position our graduates professionally to enhance their employability and the skills needed in their future careers. We emphasize multidisciplinary and interdisciplinary subjects and engage our students with research-led teaching from our exceptional faculty. We take particular pride in our alumni, who have become leaders in various career fields. Enrolling in a CHSS graduate degree is, therefore, an opportunity to engage in a rewarding journey that allows our students to unlock potential, make a difference in society, and achieve their career aspirations."
HBKU will host an online Graduate Studies Open House on November 2, an opportunity to meet faculty from all six colleges and the Enrollment and Student Affairs teams. Registration is open at https://www.hbku.edu.qa/en/OpenHouse22. HBKU's admissions deadline for international applicants is February 1, 2023. The deadline for Qatari and residents (with eligibility for merit-based funding) is March 15, 2023, with final applications accepted until May 15, 2023.
For more information on the programs at the College of Humanities and Social Sciences, please visit chss.hbku.edu.qa and for all other programs, https://www.hbku.edu.qa/en/admissions.