College of Humanities and Social Sciences Marks European Day of Languages with Embassy Gathering at HBKU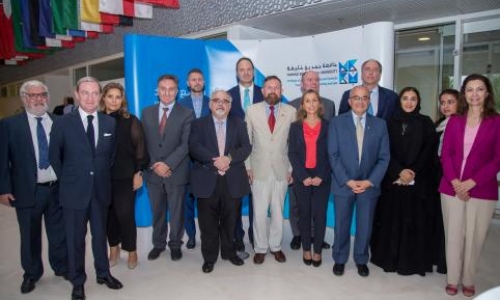 Event takes place ahead of United Nations' International Translation Day
High-level staff from several of Qatar's European embassies were guests at the recent celebration of the European Day of Languages by the College of Humanities and Social Sciences (CHSS) at Hamad Bin Khalifa University (HBKU). Held on September 26, the event underscores the University's support for initiatives that promote language skills and teaching.
Declared by the Council of Europe in 2001, the European Day of Languages is an annual event that highlights the rich linguistic and cultural diversity of Europe. The day also promotes lifelong language learning both in and out of traditional educational settings, for fun and professional development. In doing so, the European Day of Languages encourages plurilingualism and better cultural understanding across the continent.
CHSS' celebration took place ahead of the United Nations' (UN) International Translation Day, first instituted on September 20, 2017. This annual day, held on September 30, pays tribute to language professionals and their role in facilitating dialogue, understanding, and cooperation around the world. Like other UN days, International Translation Day educates the public on issues of concern while celebrating the achievements of humanity.
Speaking after the event, Dr. Amal Al-Malki, founding dean of CHSS, said: "It was important to mark the European Day of Languages for two very important reasons. First, our guests at the celebration reflect Qatar's warm relations with all European states. For our part, HBKU continues to develop constructive and proactive ties with like-minded organizations from across Europe.
"Second, CHSS is the home of the Translation and Interpreting Institute, which prides itself on being the only institute in the region to offer internationally validated translation and audiovisual translation masters programs and professional development workshops, while teaching 11 languages to the public and university and school students. The college in essence continues to promote diversity as one of its core values."
His Excellency Dr. Willy Kempel, Ambassador of Austria to the State of Qatar, said: "The European Day of Languages is a day we celebrate around the world to make European languages and cultures known. However, it's a two-way street; as we are also listening to our host countries and seek to cater to their needs and interests."
CHSS regularly hosts public lectures, conferences and other events that support its vision to enrich society in Qatar and across the wider world with transformative educational experiences.