Hamad bin Khalifa University's Translation and Interpreting Institute and Bloomsbury Qatar Foundation Publishing Welcomed the Public at 4th Annual Translation Conference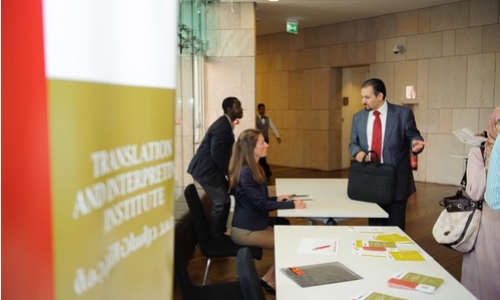 Hamad bin Khalifa University's (HBKU) Translation and Interpreting Institute (TII) and Bloomsbury Qatar Foundation Publishing (BQFP) opened their doors yesterday morning for the 4th Annual Translation Conference at the HBKU Student Center. The conference focuses on the theme "Texts in Contexts: New Cultural Constellations in Translation Studies." Dr. Amal Al-Malki, Executive Director of TII and Hanouf Al-Buainain, Director of BQFP welcomed guests representing over twenty nationalities. Al-Malki and Al-Buainain remarked on the evolution of the conference as it has expanded to include exciting, new components over the past four years.
Dr. Moneera Al-Ghadeer, Director of Postgraduate Studies and Research Center introduced Dr. Ovidi Carbonell Cortes of the University of Salamanca in Spain who delivered the first keynote address that analyzed global perspectives on Arabic-Spanish translation. Today Samuel Shimon will describe the past and present states of literary translation based on his experience as founder and editor of Banipal Magazine, which publishes literature in translation.
Among the new additions to this year's conference are the panel discussions and the Author Conversations that represent the intersections of academia, literature, and translation. Scholars from a number of international and institutions resided on the first iteration panel discussions, entitled "A Journey in Translation Theory from Past to Present." The panels will continue until April 16 and do not require pre-registration.
"We are delighted to have been able to bring to Qatar this collage of academics and professionals to share recent topics and concerns in the field of translation; and also raise public awareness of the importance of translation in our global world," stated Dr. Amal Al-Malki, Executive Director of TII, in her opening remarks.
The conference team was extremely pleased with the overwhelming demand for the workshops, which revealed the diversity of interests in the region's community of translation professionals. Workshops in poetry, literary, audiovisual, and media translation will continue until the end of the three-day conference.