HBKU's Translation and Interpreting Institute Opens Call for Papers for International Conference in 2021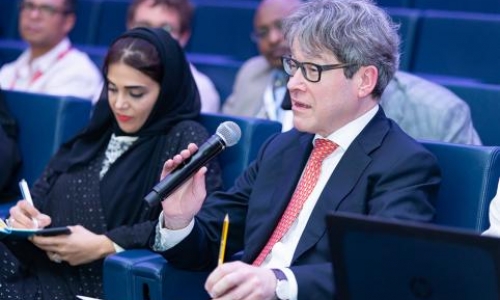 Conference to focus on changes in translation and interpreting triggered by COVID-19
The Translation and Interpreting Institute (TII), part of the College of Humanities and Social Sciences (CHSS) at Hamad Bin Khalifa University (HBKU), is welcoming submissions for its 11th International Translation Conference taking place from March 24-25, 2021.
Under the theme "COVID-19 and Current Changes in Translation and Interpreting Studies", the conference will explore how the pandemic is reshaping translation and interpreting, academically, professionally, and socio-economically. Among the themes to be considered will be the advanced digitization of translation and interpreting services and the advantages and challenges this presents for the profession. Due to ongoing precautionary restrictions on international travel, the conference format will be a series of online presentations and keynote speeches.
Since its launch in 2010, the International Translation Conference has evolved into a fully-fledged scholarly conference promoting the vision of TII as a center of education and research. From 2021, TII will organize the conference as a biennial event, allowing more time to pursue research agendas that will further enhance the depth of discussions.
Commenting on the focus of the forthcoming conference, Dr. Hendrik Kockaert, Director of the Translation and Interpreting Studies Department at TII said: "As a university and an institution, we have not been immune to the upheavals triggered by the pandemic. The sector has been vital in the multilingual development of social media, healthcare communication, intercultural mediation, accessibility, diversity, and inclusion, as well as societal advancement this past year. In order to continue adapting and innovating to guide society through these and other pressing challenges, the 11th International Translation Conference is a platform for the academic community to conceptualize new developments related to translation studies."
TII welcomes submissions on the impact of the current pandemic, including the following sub-themes: T&I and Social Media; T&I Pedagogical Trends and Traditions; T&I Professional Trends and Praxis; T&I and Safety Protocols in Healthcare; T&I in the Arab World After the Pandemic; T&I Digitized Work Places and Data Security; Audiovisual Translation and Beyond; T&I, Diversity and Accessibility; Changes in Teaching: Online delivery and Blended Learning in T&I; T&I, Cultural, Linguistic, and Social Consequences; Pandemic Pedagogy and Comparative Perspectives; Selflessness, Hospitality, and Identity; and Memory and Commemoration.
The deadline for the submission of abstracts is January 22, 2021, with notification of acceptance by February 21. For more information, please visit www.tii.qa/11th