HBKU's Translation and Interpreting Institute to Support Inclusive Screenings at Ajyal Film Festival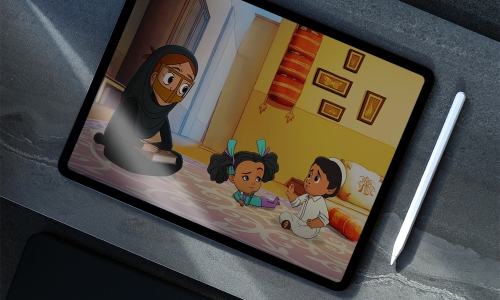 All-inclusive cinema experience provided for sixth year in a row
In line with its mission to enrich Qatari society through transformative educational experiences, the Translation and Interpreting Institute (TII) at the College of Humanities and Social Sciences (CHSS), part of Hamad Bin Khalifa University (HBKU), will support several inclusive screenings at this year's Ajyal Film Festival.
Organized by the Doha Film Institute (DFI), the festival brings people together through screenings and events that inspire creative interaction and cinematic dialogue. This year's event will be the sixth in a row that TII will provide audiovisual translation for selected films. Under the supervision of TII's Translation and Training Center staff and alumni from HBKU's Master of Arts in Audiovisual Translation (MAAT) will support screenings of Ya Hoota, Elevate, Black Veil and Beit Byoot.
TII further underlined HBKU's participation in the Ajyal Film Festival by renewing its Memorandum of Understanding with the DFI. Signed earlier this month, the Memorandum confirms both organizations' commitment to providing accessible films for the people of Qatar.
Speaking ahead of the festival opening, Dr. Amal Al-Malki, CHSS Founding Dean, said: "We're looking forward to supporting another round of all-inclusive screenings at this year's Ajyal Film Festival. Inclusivity has been at the heart of our cause at CHSS and TII from the very beginning and we're proud of our collaboration with DFI's team. While COVID-19 has necessitated changes to this year's event, we nevertheless remain committed to providing high-quality audiovisual translation support. We're also determined to build on our already close relations with the DFI over the coming years."
Taking place November 18 to 23, the Ajyal Film Festival will be held online as well as at Lusail's Drive-In Cinema, and Vox Cinemas, Doha Festival City. TII-supported inclusive screenings run November 20 to 23 and will also be available online at www.watch.ajyalfilm.com/2020
The Translation and Interpreting Institute regularly holds events to highlight its research activities and projects.