HBKU's College of Humanities and Social Sciences hosts talks on extensive 14th-century text and 21st-century Disney film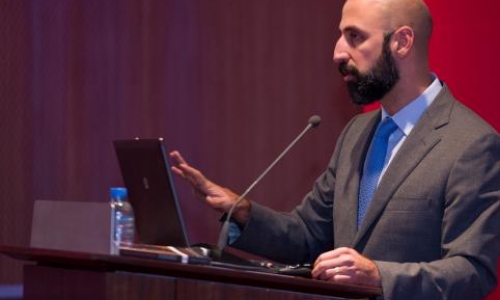 As part of its Distinguished Talk Series, the College of Humanities and Social Sciences at Hamad Bin Khalifa University (HBKU), a member of Qatar Foundation for Education, Science, and Community Development, hosted two lectures on literary translation by noted academic Dr. Elias Muhanna. Dr. Muhannais the Manning Assistant Professor of Comparative Literature at Brown University in the United States.

During the first lecture, Dr. Muhanna discussed the experience of translating one of the most famous encyclopedic texts in classical Arabic literature, the 14th-century compendium, Nihayat al-arab fi funun al-adab (The Ultimate Ambition in the Arts of Erudition) by Shihab al-Din al-Nuwayri. This 31-volume universal work is a remarkable collection of facts, myths, poems, legal contracts, fables, anecdotes, recipes, legends, and more. Dr. Muhanna addressed the challenges and pleasures of translating an encyclopedic text of this kind.

Speaking after the event, Dr. Muhanna said: "I hope that readers will recognize in al-Nuwayri's work a sign of just how rich and colorful the intellectual heritage of Islamic civilization is."

"Perhaps more than any other literary genre, the medieval encyclopedic compendium reflects the full range of a culture's selves, not just its elite self. It contains its official histories, but also its unofficial histories: the kitschy, crass, and embarrassing alongside the noble and self-important."

Dr. Muhanna's second lecture at the HBKU Student Center focused on a popular 21st-century text: the screenplay of the animated Disney movie Frozen. In a lecture that was designed to appeal to a diverse Education City audience, Dr. Muhanna considered the complexities of translating Frozen into Modern Standard Arabic in a way that maintains the full meaning of the original English text.

Dr. Muhanna's talks were organized by the College of Humanities and Social Sciences in order to help draw attention to the practice and study of translation and to increase awareness about the HBKU's two master's programs in the field of translation and interpreting: a Master of Arts in Translation Studies and a Master of Arts in Audiovisual Translation.

The college is currently accepting admissions for its fall 2017 intake. Those wishing to find out more are encouraged to visit the HBKU website at www.hbku.edu.qa.