Shaimaa Ziara
Shaimaa Ziara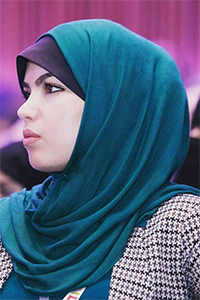 MA in Translation Studies
Class of 2017
Shaimaa is a second year international student enrolled in the MA in Translation Studies Program. She pursued a Bachelor degree in English Language and Literature in The Islamic University of Gaza, Palestine and graduated in July 2015.
Along with her MA studies, Shaimaa works as a communication assistant at Translation and Interpreting Institute. Her job includes communication, marketing, public relations, social media marketing and outreach, and event planning. When asked about her experience as a student employee and how she balances between study and work, she said: "It definitely gets hard and stressful at some point to be an employee and a student at the same time, but when I see the fruits of my work, I feel that it was worth it. The experience I gained working at TII is priceless, and I believe it will push my future career forward."
During her undergraduate studies in English Language and Literature, Shaimaa had three translation courses that contributed to forming her passion towards translation. Therefore, she decided to do her Master's in translation to further explore this field and become more specialized in it. She chose Translation and Interpreting Institute for its impressive Master's program in Translation Studies, which covers both theoretical and practical aspects of the field, giving the students a chance to experience translation first hand.
For her future goals, Shaimaa explained that after she gains experience as a professional translator between the languages Arabic and English, she aims to improve her French to a proficient level, so that she can expand her translation language pairs to English and Arabic, and French and Arabic.
Shaimaa is also involved in other activities. For instance, she is a member of WISE Learners' Voice Program as a part of the World Innovation Summit for Education-WISE. This program aims to gather youth from around the world to put together their potentials to create change in all fields related to education around the world. It aims to change the current reality of education to a world where education is all about accessibility, creativity, equality, and innovation.