Tii & Mathaf Collaborate on Art Exhibition for Visually Impaired Visitors
Tii & Mathaf Collaborate on Art Exhibition for Visually Impaired Visitors
Tii & Mathaf Collaborate on Art Exhibition for Visually Impaired Visitors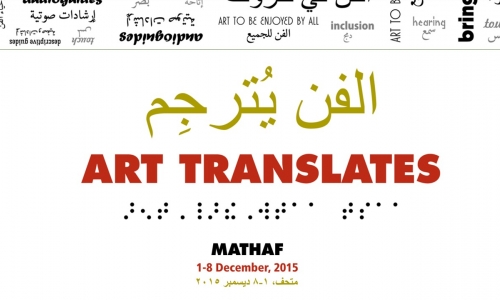 The Translation and Interpreting Institute (TII) at Hamad bin Khalifa University (HBKU), collaborated with Mathaf: Arab Museum of Modern Art on a unique, inclusive art exhibition titled "Art Translates".
This special exhibition allowed blind visitors to enjoy a selection of paintings by prominent Arab artists through touch and through the audio description of each painting. Students from TII's Master of Arts in Audiovisual Translation (MAAT) program developed special Enriched Descriptive Guides (EDG) and reinterpreted the pieces of art in tactile formats, thus making the art pieces accessible to visually impaired visitors.
The inclusive exhibition was hosted by Mathaf, at their base within Education City, on December 5th to celebrate the United Nations International Day of Persons with Disabilities. The featured works were paintings by Baya Mahieddine, Jassim Al-Zaini, Farhad Moshiri, Ahmed Morsi, Faisal Laibi, Hamad Owais, Rafa Al-Nasiri, Ali Hassan and Naja Mahdawi.
Dr. Josélia Neves, an associate professor at the university with the responsibility of promoting accessible learning initiatives within TII, commented on the project: "This project has been an opportunity to train our students for their future as providers of accessible communication formats for museums. It has also served to add value to our cultural environment, and to take academic work into the real world. "
Noor El Taweel, a student involved in the project, noted: "The most exciting part of this project has been learning about human diversity and seeing that we can contribute towards making society more inclusive."
Dr. Neves and students from the MAAT program also supported the Doha Film Institute's efforts towards accessibility and inclusion. As part of the Ajyal Youth Film Festival, the organizations worked together to hold the region's first, inclusive cinematic experience on December 3rd, a "transadapted" version of the of Al Rayyan Productions animated short, Hero and the Message. Designed to suit audiences with different abilities, visually impaired audience members were able to view the film through sound alone, and hearing-impaired audience members benefitted from subtitles enriched with information about sound effects and music and sign language interpreting. The audio description and subtitling for the film was provided by TII's students under the supervision and guidance of the MAAT program professors.
Tii is currently accepting applications to its MA in Audiovisual Translation's fall 2016 intake, in addition to a variety of other programs.