Translation and Interpreting Institute to Host Professional Interpreting Workshop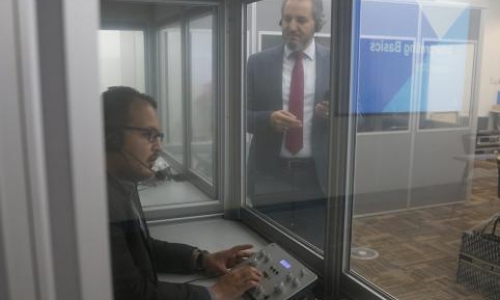 Level two workshop will enhance the skills previously learned at the Professional Interpreting Basics workshop
Professional interpreting will be in the spotlight when the Translation and Interpreting Institute (TII) of the College of Humanities and Social Sciences (CHSS), part of Hamad Bin Khalifa University (HBKU), hosts a four-day workshop from December 29 to January 1 as part of the Translation and Training Center's workshops.
Following its successful Professional Interpreting Basics workshop in October, TII will provide more advanced training during level two of the program. Under the guidance of award-winning senior interpreter and certified legal translator Mazen Alfarhan, of the Institute's Translation and Training Center (TTC), level two will see participants develop strategies to solve linguistic and non-linguistic problems during the interpreting process through live interpreting exercises using a variety of texts and accents.
The theme for the opening day of the Professional Interpreting workshop is Sight, Liaison and Consecutive Interpreting, while the following three days will focus on Simultaneous Interpreting, with individual and group sessions helping to enhance participants' skills.
Mazen Alfarhan, a reviser and trainer at TTC, TII, said: "The workshop is aimed at individuals who completed the Interpreting Basics Level workshop, or who have intermediate experience in the field. We will continue the training of those who completed level one in October and will build on already acquired skills by providing intensive training in interpreting techniques and modes.
"The workshop will enable participants to conduct live interpreting exercises using a variety of texts and accents, and will develop their interpreting skills and confidence in one of our state of the art interpreting booths. Attending this workshop will lay the foundation for participants to develop advanced skills that are used by professional interpreters."
The workshops will be held from 4pm - 7 pm from December 29 to January 1 at the Penrose House in Education City (formerly the LAS Building).
TII provides the local community with high-quality education in translation, interpretation and foreign languages, helping it to contribute to the growth of a knowledge-based economy.