Translation and Interpreting Institute Workshops Open to the Public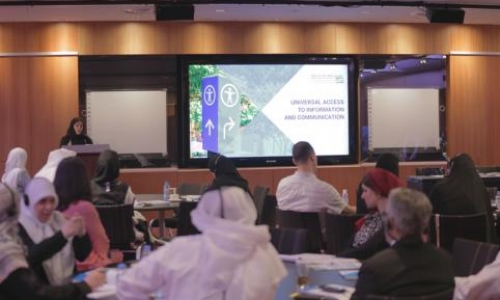 Bridging the gap between the academic and professional aspects of translator-training, Hamad Bin Khalifa University's (HBKU) Translation and Training Center (TTC), part of the Translation and Interpreting Institute (TII) within the College of Humanities and Social Sciences (CHSS), will offer public workshops in sports, media, audiovisual translation, and other fields as of September 2018 to May 2019. The workshops aim to train professional translators and participants to acquire skills in the field.
As the premier training and service destination in the area of translation and interpreting, TTC provides continuing education opportunities to individuals, professionals and the broader local community, thus generating a visible impact on the social, economic and workforce development in Qatar and the region.
The upcoming workshops will address basic elements within the translation and interpretation industry through foundational workshops in Professional Translation Basics, Interpreting Basics, Audiovisual Translation: Subtitling, and The Art of Dubbing. Additional workshops in Translation and Technology: SDL Trados, as well as Revision and Quality Assurance will introduce practical tools to provide a firm technical grounding of the material. Finally, field-specific workshops will prepare participants for real-market scenarios across a number of sectors. These sectors include: Translation in Business and Finance; Accessible Hospitality and Events; Translating Sports; and Translating News and Views.
Underlining the workshops' professional applicability, Nada Al-Mahmeed, TTC Acting Director said: "Our workshops are open to the community and were designed to be in line with TII's well-established standards of teaching excellence. The workshops present added value for participants as they would be trained by our in-house team of experienced translation and interpreting professionals and faculty members. When combined together, the workshops provide a multidimensional approach to real-life challenges and solutions in the translation and interpreting fields as they lend essential support to Qatar's vibrant sectors, including the journalism, education, and sports hospitality industries, as well as others."
The four-day workshops are spread throughout the academic year 2018/19 and will be held from 4-7 PM at the Liberal Arts and Science (LAS) Building in Education City.