About the Leader/Instructor
Wahba Youssef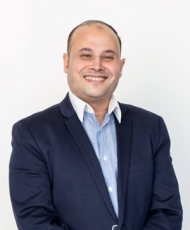 Wahba Youssef has been working for the Professional Services Center as a Senior Translation Specialist since October 2015. He is leading the CAT Tools practice at TII and working towards training Translation Studies MA students on using such tools and project management techniques.
Academically, Wahba is a graduate of Ain Shams University, Faculty of Alsun, Egypt, 2001. His major study was English, Arabic and German. He has supported his linguistic study with a diploma in Information Systems Analysis and Design regulated by NCC with cooperation with the Egyptian Ministry of Communications in 2003. Moving to work in the Capital of England, London, he pursued his academic studies by having a BA degree in International Business and Management from Bournemouth University. Additionally he gained a level 2 diploma in Financial Accounting under the regulation of the Association of Accounting Technicians in London and was awarded the membership of the association.
Professionally, between 2001 and 2004, Wahba worked in Egypt for Dar El Farouk Publishing House as an English-Arabic Translator where he translated so many books in the two disciplines of Information Technology and Finance and Investment. Then he moved to Future Group to work as a Senior Translator for 3 years. Since then, he focused on using CAT Tools in translation such as SDL Trados, Wordfast Pro and MemoQ. In 2007, he was offered a position by Ernst & Young to work as a Financial Translator and Reviewer for 3 years in Kuwait. After that he settled in London and started a new phase of his professional career; he spent six years contracting with local and international clients in the UK to provide them with translation services using cutting edge technologies of translation.