Exclusive Student Interview - Heba Nassar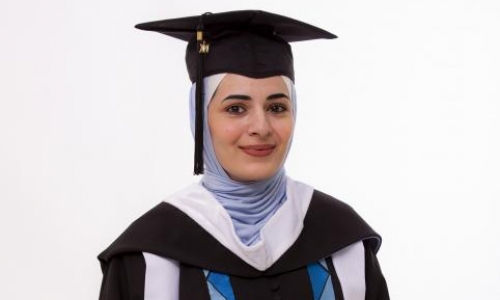 Master of Arts in Translation Studies, College of Humanities and Social Sciences, Hamad Bin Khalifa University
Why did you choose HBKU and this particular degree program?
My decision to pursue further studies in the translation and interpreting field was not a spur-of-the-moment one. I have always been interested in translation due to its interdisciplinary nature. My ambition to pursue advanced studies in translation and interpreting started during my BA degree in translation. I then became more interested in developing my knowledge in translation, and therefore applied for a Master of Arts in Translation Studies at HBKU. This opportunity refined and widened my knowledge and skills.
HBKU embraces a diverse community of cultural backgrounds and this has been a great motivation for me. As a student away from home, I never felt detached or alienated. I am indebted to HBKU for giving me the chance to be one of its students, for providing me with an extremely comfortable space which I will always call home, and for making my life easier during my first experience away from home and family.
Dr. Amal Al Malki, the founding dean at the College of Humanities and Social Sciences (CHSS), has always been a great inspiration for students, including me. Her continuous support for students, along with her passion and enthusiasm, inspired me to become a part of the CHSS family, and I am proud and fortunate enough to have had the opportunity of being a member of this great family.
How has your classwork, research, advice from your professors and/or your overall experience at HBKU shaped your next step and your longer-term career goals and ambitions?
I am extremely grateful to have been granted a CHSS scholarship, which is one of the college's top priorities. I am honored to have been taught by professors who are pioneers in their field and who are always approachable. My experience at HBKU has been very fruitful, and it has already enriched my knowledge. My graduation is just the starting point from which I will go into the world equipped with knowledge, experience, innovativeness, and creativity. My journey at HBKU is a turning point in my academic life. I have acquired analytical and critical thinking skills, which will enable me to pursue my postgraduate studies and immerse myself in my future career.
What was the highlight of your time at HBKU?
My journey at HBKU has been a remarkable one, full of ups and downs, and I am very grateful for every moment. I consider the time I spent writing my MA thesis as the most challenging throughout my entire journey. At the same time, it was the most enjoyable. The best moment I had at HBKU was when I passed my viva exam. Knowing that my two years of effort resulted in accomplishing innovative research was indeed a precious moment that will always put a smile on my face whenever I recall it. I will always be grateful to my supervisor, Dr. Julie Boéri, Assistant Professor at CHSS . She believed in me, and I will never forget her words: "be self-demanding and it will pay" I am thankful for her advice which encouraged me to be who I am today, an ambitious student who views the sky as the limit. I am confident that her words will always accompany me in my personal and professional life.