HBKU and DCMF Sign MoU and Translation Services Agreement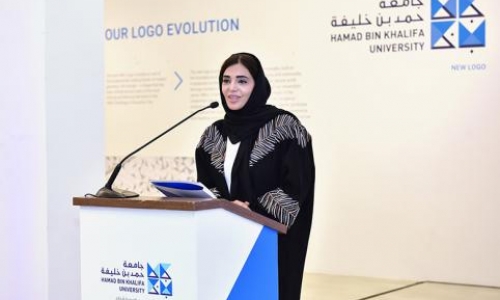 Opening new avenues to mutual support and collaborative achievement, Hamad Bin Khalifa University (HBKU) and the Doha Center for Media Freedom (DCMF) today signed two benchmark documents, including a Memorandum of Understanding (MoU) and a Translation Services Agreement. The documents outline common objectives of both signatories to exchange professional expertise, experience, and skills towards a unified mission for Qatar's growing knowledge-economy.
The Services Agreement allows for the Translation and Interpreting Institute (TII) of the College of Humanities and Social Sciences (CHSS) to provide high-quality translation and interpretation services in English and Arabic for publications, reports, events and training courses to DCMF. In return, DCMF will provide practical advisory services and student opportunities in the form of workshops and research support.
In an official ceremony attended by officials of both organizations, Dr. Amal Mohammed Al Malki, founding dean of CHSS where TII was established, and Ms. Hanan Al-Yafei, content manager at DCMF representing Mr. Abdelrahman Bin Nasser Al-Obaidan, acting general manager of DCMF, signed the agreement in the presence of distinguished guests and media personnel.
Describing the importance of the translation services agreement and the MoU, Dr. Al Malki, said: "From the very onset of the institute's founding, we committed ourselves to a core pursuit – the facilitation of communication between people. We extended world-class translation and interpreting services to individuals and organizations, developed premier foreign language instruction programs, and served as a center of education and research – all with the aim of fulfilling this mandate."
"Our MoU with DCMF today is yet another step in the same direction. By partnering with a center that serves at the vanguard of protecting freedom of expression and strengthening communication of ideas and thoughts between communities, our institute endeavors to make a meaningful contribution to the growth of journalism in Qatar through making the voices of Doha-based journalists intelligible to more ears within our country and around the world."
Commenting on the partnership, Member of the Executive Committee and Director of DCMF, His Excellency Mr. Abdulrahman Bin Nasser Al-Obaidan, said: "Since its inception, DCMF has aspired to build bridges of cooperation with expert organizations in the fields of human rights, academia and media, both locally and internationally. These partnerships will serve their mission in strengthening the role of professional practices of journalists, and, in turn, the quality of media in Qatar. Today's agreement with HBKU will further enrich and diversify these partnerships.
"At DCMF, we believe that enhancing relations with HBKU, an outstanding academic institution in Qatar, the Gulf and the wider Arab region, will lead to joint efforts in education, training and translation in areas of common concern. This MoU opens the door to wider research opportunities into transformative issues faced by our society today."
The agreements further touch on the University's publishing house, HBKU Press, to support in collaborative distribution and publication efforts with DCMF, as well as on the HBKU Executive Education Center's role to enhance joint training and education efforts. Concurrently, DCMF will extend funding opportunities to current HBKU students, and a chance at full-time employment for graduates.
DCMF, a non-profit organization that was launched in 2007, is actively engaged in Qatar's media landscape through the extension of a broad range of mediums of support and assistance to the media community, particularly in times of crisis and persecution; building of strategic partnerships with likeminded organizations to unify efforts; and offering of journalistic skill development via professional trainings and educational workshops. Its various activities aim to uphold freedom of the press as per the guiding ideals of the Universal Declaration of Human Rights.
Both HBKU and DCMF are well-recognized for promoting knowledge within Qatar, the greater Middle East region, and the world. As one of Qatar's premier homegrown educational institutions, HBKU has established a novel platform for discussion and knowledge-sharing, while DCMF's work actively promotes an environment of safe journalistic inquiry and dialogue.