3rd Annual Translation Conference: Translation in and of the world
3rd Annual Translation Conference: Translation in and of the world
3rd Annual Translation Conference: Translation in and of the world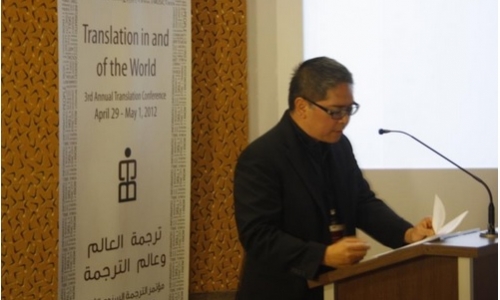 29 April-- Themed "Translation in and of the World," the third annual Translation Conference was launched on Sunday, with an impressive array of workshops, keynotes, and events. The conference began with opening remarks from renowned names such as Bloomsbury Qatar Foundation Publishing (BQFP) author Ahdaf Soueif, Amal Al-Malki, Executive Director of the Translation and Interpreting Institute (TII), as well as representatives from the organizing partners BQFP and the British Council.
The Translation Conference has enjoyed considerable growth and attention since its inception three years ago. As a result, it has extended to three days, with options for morning and afternoon workshops this has enabled the organizers to offer more variety, through two separate strands - literary translation and professional translation. With over 150 participants registered for this year's event, the Translation Conference is enabling translators in the Middle East and UK to strengthen their skills and their networks.
'We were overwhelmed at the demand. Registration closed after about a week because we were oversubscribed so we added extra workshops and slots to avoid turning too many people away,' said Maha Helmi from TII.
Hosted by TII, the non-literary strand caters for the needs of translators both locally and regionally in the commercial field, with workshops covering business/commercial translation, media translation, and audiovisual translation. When asked about the conference, Dr Al-Malki said "it is with great pleasure that the Translation and Interpreting Institute organizes the third annual Translation Conference for the first time this year in collaboration with Bloomsbury Qatar Foundation Publishing and the British Council. The "Translation in and of the World" conference this year and the variety of its workshops is a clear indication of the richness of the Translation Studies field as an academic discipline as much as it is a profession."

The literary strand covers a vast array of topics, from translation for children and young people to translating dialects. Over the three days attendees will meet with expert translators to work on texts. Participants will also have the chance to meet BQFP authors Ahdaf Soueif, Jabbour Douaihy, Selma Dabbagh and Bloomsbury children's author B R Collins to hear about their experiences.
The British Council awarded over forty scholarships to translators from the Arab World and the UK to take part in the literary strand. Mr Simon Winetroube, British Council Qatar Director, said: 'Good quality literary translation from Arabic to English and English to Arabic is critical, to allow speakers of only one language to access each other's' literature. This opens up cultural exchange and intercultural dialogue and plays an important role in cultural relations. It is a pleasure to partner with Bloomsbury and TII on this year's translation conference and we are delighted with the response. We hope that our contribution will add value and that participants from the UK and this region will benefit from the opportunity to exchange experiences and share best practice. For the British Council, this event builds on our work on two previous regional conferences held in Egypt and Syria. We are pleased to work once again with The British Centre for Literary Translation who have set the workshops' content and provided the UK authors and workshop leaders.'
'The Translation Conference affords BQFP the opportunity to scout for new talent and find the next generation of translators. In the two years since we launched, BQFP has established a list of high quality Arabic fiction in translation. By nurturing a community of fellow translators and sharing strategies and best practices, BQFP, along with its partners The British Council and TII, hope to raise the quality of translation across the region,' said Andy Smart, Consultant Publisher for BQFP.