Mohamed Shokeir
Mohamed Shokeir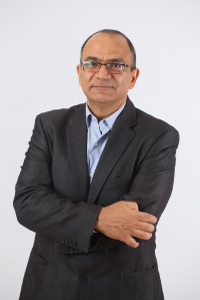 Mohamed Shokeir is a recent graduate of the MA in Audiovisual Translation program. During his studies at CHSS, Mohamed was employed at Al Jazeera Television Network as an Executive Producer specializing in quality assurance and editorial standards. Mohamed's main tasks involved leading a team of journalists who monitored and evaluated the network's English language channels. Mohamed also prepared special editorial monitoring on special coverage reports as assigned by the Director General. In addition, Mohamed translated books related to journalism, designed training portfolios for producers, correspondents, and reporters. After pursuing a degree in Audiovisual Translation, Mohamed is currently working as an Arabic Media Writer at Georgetown University in Qatar.
Mohamed is a veteran translator and has been a professional in the field for three decades. Even with his extensive experience, Mohamed continues to work towards developing himself professionally and expanding his skill set. When asked why he decided to pursue a second graduate degree at an older age, Mohamed answered that "studying keeps the brain working and it is the best way to beat aging! It is my way of remaining young and feeling appreciated. The pressure has been tremendous but I believe it is well worth it." Mohamed also mentioned his younger daughter as his drive to stay healthy and work hard so that he can continue to provide her with all the support, care and love that she needs.
When asked about his future planes, Mohamed said: "If I do not earn a living from broadcasting journalism, I would either be translating, or playing music and singing." He is also thinking about pursuing a degree in Simultaneous Interpreting in the near future.