Student Orientation Program for MATS Class of 2015
Student Orientation Program for MATS Class of 2015
Student Orientation Program for MATS Class of 2015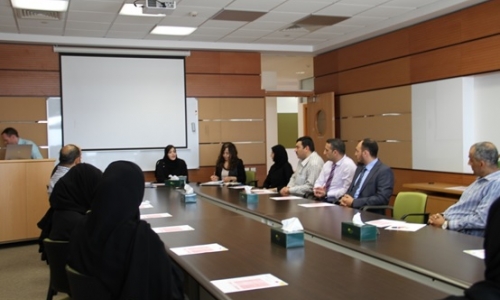 Dr. Amal Mohammed Al-Malki, Executive Director of TII, greeted the new students, followed by a welcome note from Dr. Moneera Al-Ghadeer, Director of Post Graduate Study and Research. Dr. Amal Al-Malki addressed the new students, saying "TII has started with a clear vision to create a hub for the teaching and training of translation, interpreting, and foreign language. Today I invite you to join us in realizing this vision. TII has become a reality through determination and hard work. If there is one thing that describes TII's community, it is indeed hard work." She further added that, "We all share the same passion for what we do and we all aspire to make TII a leading Institute not just in the region but in the world. And to do that, we recognize that it is you that we need to focus on, because you will be TII's ambassadors to the world."
Eighteen students have been chosen to join the MATS class of 2015; one international and seventeen local residents. A number of students received scholarships as well.
Dr. Moneera Al-Ghadeer, Director of Postgraduate Studies and Research stated: "New students may encounter difficulty in reading philosophical concepts that are derived from other cultural contexts, but it is reading theory carefully in relation to the self, the other, and the world that would make it possible to understand theoretical texts. Students are invited to think of translating the foreign and reflect on the ethical relationship with the stranger and marginalized." Also, she added: "We have been working on achieving excellence in teaching and research, and we are moving forward in the validation process for our MA degree with the University of Geneva."

Mr. Mounir Ouanaimi, Director of the TII Language Center, further motivated the students by introducing them to the collection of language offerings at TII, and talked about future prospects of officially introducing Mandarin at the Language Center.
Mr. Asaad Kahlout, Director of Professional Services, also briefed the students on the highly-equipped, top-class translation and interpreting services being provided for the first time in the Gulf region. These services include professional workshops in translation and interpreting, in which graduate students can enroll for free. The students were later introduced to faculty members and professors, who provided them with brief, but meaningful, insight about their coursework and related academic activities; as well as a tour of the HBKU campus and its state of the art facilities.

The students thoroughly enjoyed the day, which ended with a student-faculty lunch reception, where they had the opportunity to personally interact with TII faculty and current students.
Since its establishment, TII has achieved tremendous progress on a global scale. With both classes of MATS students representing ten different nationalities, the Institute is not only making a valuable contribution towards developing Qatar's knowledge based economy, but is also contributing immensely towards the translation and interpreting needs of the international community.
As an institute of Hamad bin Khalifa University, and led by a distinguished international team of faculty and staff, TII consists of a Postgraduate Studies section, a Research Center, a Language Center, and a Professional Services section. It organizes a wide range of international and local events throughout the year, many of which are open to the public.