Using Language to Spread Message across Cultures
Using Language to Spread Message across Cultures
Using Language to Spread Message across Cultures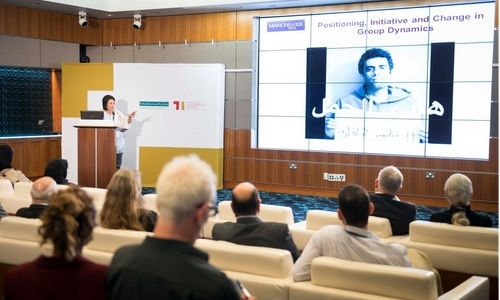 Dr Mona Baker, a Professor of Translation Studies, and Director of the Centre for Translation and International Studies at the University of Manchester in the UK, outlined her views on how translators and interpreters operate in political conflicts, as a guest of Hamad bin Khalifa University's Translation and Interpreting Institute (TII) on 21 October 2014.
Part of TII's Distinguished Public Talks series, reflecting the institute's commitment and contribution to Qatar's knowledge-based future, Dr Baker's talk at Qatar National Convention Centre – entitled Subtitling For Protest Movements – considered how narratives are circulated and promoted through the work of translators and interpreters in times of turbulence.
Speaking to QF Telegraph, Dr Baker – whose books are used for teaching at TII and many international universities – praised TII for developing a curriculum that is built around "best practice and reflection", fully preparing its students for the challenges their chosen path will hold. "I have been involved with TII since its inception, and its thinking has always been to train students not just in translation and interpretation, but to also be able to reflect on what they do, so they can intervene in the public discourse about the subject, as and when change is needed," she said.
"Of course, this training has a very strong component of translation and interpretation, but students must also be able to understand the implications that concepts hold, for themselves and for society as a whole. By doing this, they will have the confidence and ability to think through the many issues they will engage with, and to engage with others about them.
"You cannot interact with knowledge in a vacuum, removing yourself from the rest of the world. Knowledge does not remain static; it travels, and this is largely due to the work of translators and interpreters. For the majority of people, the process of mediation rests heavily with translation and interpretation. This is largely responsible for changing the level of knowledge that people feel they possess about a country or region."
TII's mission is to build human capacity in translation and interpretation, as well as being a pioneer of research in this area, and Dr Baker added: "I am extremely impressed by what it has achieved. TII has some of the best people in its field, with the work of its faculty members being recognized internationally, and key publications being produced that are referred to by anyone working in translation and interpretation.
"It has succeeded in attracting students of a very high quality, and created an environment in which people can give their best, while building itself up gradually to ensure it is doing everything right."
During her time in Qatar, Dr Baker spoke to students and prospective students about the skills they can expect to gain from studying at TII. "Non-negotiable skills are required to be a translator or interpreter, such as extremely good command of more than one language, and cultural sensitivity and awareness," she explained.
"However, it is equally important to have a sense of ethics and responsibility, because a translator is constantly mediating. They can give people from different cultures, who speak different languages, the basis to form opinions. And they must be able to think outside the box; be creative and adaptable; and have very good technical aptitude, as translation and interpretation may nowadays require the use of technology.
"In some ways, the role is similar to that of a doctor, in that the responsibility can be daunting. But with sensitivity and awareness, it is also very rewarding."